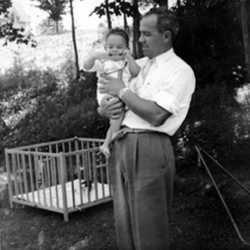 Filmmaker Mark Lipman looks back at the impact of his father's death over thirty years ago and uncovers more than he bargained for. What begins as a personal memorial to his father evolves into a moving exploration of grief and depression, the vagaries of memory and the veneer of family normalcy. Haunted by his inability to prevent his father's death at age 17, the making of this film came to span twenty years as Lipman tried to construct an image of his father from relatives' memories and psychiatric records unearthed from hospital archives. The film circles around to become an inquiry into his own life – the choices he has made and how his father's life resonates within his own. Using evocative home movies and poetic imagery, Father's Dayallows the viewer to become immersed in intimate conversations about death, suicide, mental illness and the choices that went into the creation of a family. There are no easy answers or tidy conclusions and so the film creates an unusual space for viewers to reflect upon their own lives.
Produced and Directed by Mark Lipman
An amazing accomplishment. Father's Day is an intensely personal film that will speak to anyone exploring the imprint of their parents on their own lives.
—Bo Smith, Film Curator, Museum of Fine Arts, Boston
Irresistibly, viewers are absorbed by lives and feelings that may seem as unremarkable as their own, but, once addressed here, blossom with the import of what we can and cannot know about our selves and others. Father's Day is a remarkable achievement.
—Jeff Clark, James Madison University, 'Booklist'
A compelling and original look at the father-son relationship. [Lipman's] efforts to penetrate the secrets in his family echo the mystery and uncertainty and, ultimately, the powerful bond between all fathers and sons.
—Sam Osherson, Ph.D. Author, 'Finding Our Fathers'