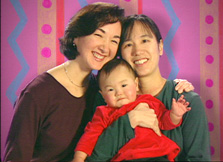 With blunt and sometimes hilarious candor, children from over 50 diverse families open the door to their homes, and explain things like "divorce," "mixed race," "gay and lesbian," "birth mom," "single parent," "guardian," and "stepdad," and get right to the point of what they wish other people would understand about their families. While designed especially for young audiences, That's a Family! stretches the minds and touches the hearts of people of all ages. It is a fresh look at the changing American family, and lets children lead the way in preventing prejudice and embracing diversity.
A GroundSpark production
Executive Producer: Helen S. Cohen; Producer/Director: Debra Chasnoff
Every parent, educator and policymaker should be concerned about school violence. By reflecting the true diversity of American families, 'That's a Family!' breaks down intolerance and promotes true understanding – a first step toward making our school safe for all children.
—US Senator Barbara Boxer
An extraordinary film that teaches a poignant lesson about love and family.
—Robin Williams, actor
Enlightening without being didactic, this sterling production is an excellent resource to get kids talking about cultural diversity and family life.
—American Library Association