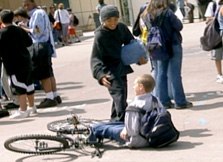 Name-calling and bullying have reached epidemic proportions in schools today. Let's Get Real gives young people the chance to speak up in their own words about the real issues behind the problem. With amazing courage and candor, the students featured in Let's Get Real discuss racial and religious differences, perceived sexual orientation, disabilities, sexual harassment and more. From the youth who are targeted, to the students who pick on them, to those who find the courage to intervene, Let's Get Real examines bullying from the full range of perspectives. This poignant film educates audiences of all ages about why we can no longer accept name-calling and bullying as just a normal rite of passage. Let's Get Real is now widely used to jump-start violence prevention and multicultural educational programs internationally, and is a must-see for any adults who work with young adolescents.
A GroundSpark production
Executive Producer/Producer: Helen S. Cohen; Producer/Director: Debra Chasnoff
By far the best video I have ever seen about bullying. The articulate voices of the young people, the imaginative visuals, and the clear organization combine to make a teaching tool of great impact and vision.
—Stan Davis, bullying-prevention consultant, StopBullyingNow.com
This video should be required viewing for anyone interested in providing safe schools for young people.
—Jerry Newberry, M.Ed., executive director, National Education Association, Health Information Network
Simple, honest and oh so effective...This can't-miss discussion starter is highly recommended for both school and public libraries.
—'Booklist,' American Library Association