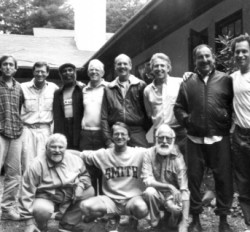 What do men really want sexually? How did they learn about sex? How does sexual expression change with age? Finding Our Way explores these questions and offers a rare glimpse into men's experiences of their sexuality as it follows the discussions of ten men who meet at a weekend retreat. The men range in age from twenty-seven to seventy-one and come from a variety of backgrounds: a writer, an insurance agent, a clergyman and the owner of a dry cleaning store. They are heterosexual, gay and bisexual. Finding Our Way is a first step toward creating new role models and moving beyond the stereotypes surrounding male sexuality. The program helps men feel less afraid of closeness with other men and encourages both men and women to talk more openly about their sexuality.
Produced by Nicolas Kaufman, Mark Lipman & Cooper Thompson; Directed by Nicolas Kaufman & Mark Lipman
Unique in the field, both in its compelling content and in its rare glimpse into the blessings and curses of male sexuality. See it at least twice.
—Kyle D. Pruett, M.D., Clinical Professor of Psychiatry, Yale Child Study Center
An important and valuable resource for the growing field of Men's Studies. It should be used in a variety of academic courses related to gender issues, aging, and sexual health, as well as by men's groups in non-academic settings.
—Ron Mazur, Ed.D., 'Journal of Sex Education and Therapy'
'Must viewing' for all men (and women) exploring their lives, in particular, their sexuality in today's questioning society.
—David L. Giveans, 'Nurturing Today'