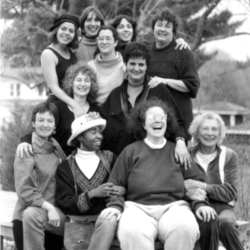 A fascinating look into the conversations of nine women who gather together for a weekend to talk about sex. The women range in age from 21 to 71 and come from diverse racial backgrounds and sexual orientations. In this intimate video produced, directed and recorded by women, we see the openness and warmth that evolves as the women share their questions, experiences and concerns. The women talk frankly about sexual orientation, menstruation, masturbation, sexual fantasies, orgasms and the effect of AIDS and sexual abuse on their lives. Both serious and humorous, the wide range of experiences presented offers a unique opportunity for all viewers—women and men—to talk about their sexuality.
Produced by Jennifer Campion, Bianca Cody Murphy and Betsy Wisch; Directed by Nicolas Kaufman & Mark Lipman
These warm, direct, touching, intelligent, heart full, accepting women inspire trust and evoke your own story, perhaps one that has not yet been told.
—Gina Ogden, Ph.D., Sex educator and therapist
A must see for women's groups everywhere to open dialogue, empathy and acceptance.
—Ruth Harriet Jacobs, Ph.D., Center for Research on Women, Wellesley College
The diversity--in age, culture, race, sexual orientation--of the women who very candidly share their experience with us, makes it possible for any woman to identify herself and find herself represented in this film.
—Lourdes Rodrigues-Nogues, Ed.D., Counseling Center Psychologist, Simmons College