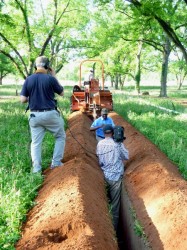 We recently completed a remarkable shoot in Georgia for Arc of Justice, the first part of the Streets of Dreams series, which traces the rise, fall and rebirth of the first modern community land trust that was established in 1970 near Albany, Georgia.
Created out of the drive for economic self-sufficiency that developed within the Civil Rights Movement, New Communities, Inc. (NCI) was the largest black-owned farm in the US at that time, nearly 6000 acres. We conducted extensive interviews with Charles and Shirley Sherrod who were central figures in the creation of New Communities, and with Congressman John Lewis who helped launch the CLT. All three are iconic civil rights leaders who spoke very eloquently and movingly about the importance of land ownership for African American families and the obstacles that have made this so difficult for generations.
Twelve years after New Communities was lost to foreclosure due to the discriminatory lending practices of the Farmers Home Administration, over 2,000 black farmers filed a class action suit against the US Dept. of Agriculture…and won! It was the largest civil rights settlement in history, and New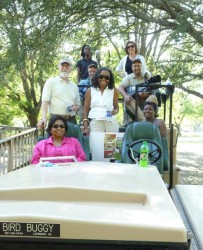 Communities was reborn with the purchase of a 1,600 acre plantation about 30 miles from the original farm.
We had the opportunity to tour this beautiful land and document the early community building work going on there with the Sherrods and Mtamanika Youngblood. Youngblood was in charge of marketing the produce grown on the original CLT and has since been a key figure in starting the land trusts in Atlanta. We watched irrigation pipes being laid for the pecan and orange trees and followed a water truck that drove from tree to tree providing water until the system is online. Since two years of drought in the early 80s forced New Communities to seek loans from the government that were repeatedly denied, it was very poignant to be visiting when this irrigation work was being done. We are honored to be telling this powerful story about an important piece of US history.