Mark Lipman & Helen S. Cohen (Directors/Producers)
Since 2004, award-winning directors/producers Mark Lipman and Helen S. Cohen have been creating documentary projects together under their Open Studio Productions banner. Lipman's films have been broadcast nationally on public television and won numerous awards. His producing credits include To Have and To Hold (1981), the first documentary to look at domestic violence through the experiences of men; Holding Ground: The Rebirth of Dudley Street (1996), a film about the Dudley Street Neighborhood Initiative's successful efforts to revitalize a Boston neighborhood devastated by redlining, arson, and illegal dumping; Father's Day (2003), an experimental documentary about the death of his father; Gaining Ground (2012), a sequel to Holding Ground that explores Dudley Street's success in preventing foreclosures and fostering youth leadership; and Street of Dreams: Development Without Displacement in Communities of Color (2013). He also edited Alaska Far Away (2008), a feature documentary about a controversial New Deal program that relocated two hundred destitute farm families into the wilds of Alaska.
Prior to becoming an independent producer in 2004, Cohen was co-director of Women's Educational Media (now Groundspark), a nonprofit organization specializing in the production and distribution of social issue documentaries. She is the co-creator of the acclaimed Respect for All Project, a program that produces cutting-edge films, curriculum guides, and training resources to help prevent prejudice among young people. Cohen's producing credits include the first three films in the Respect for All series: It's Elementary: Talking About Gay Issues in School (1996), the groundbreaking documentary that addresses anti-gay prejudice and explores how teachers can include discussions about LGBT people in their classrooms; That's a Family! (2000), where elementary school–age kids describe in their own words the many shapes that families take in today's diverse world; and Let's Get Real (2003), an in-depth look at name-calling and bullying in middle schools, told entirely from a youth perspective. She has also directed, produced, and/or executive produced documentaries for public interest organizations, including Homes & Hands: Community Land Trusts in Action (1998) and Street of Dreams: Development Without Displacement in Communities of Color (2013).
Kenji Yamamoto (Editor)
Kenji Yamamoto is an award-winning producer and editor. His editing credits include the dramatic feature Thousand Pieces of Gold (1991), starring Chris Cooper and Rosalind Chao, as well as the documentaries Downside Up (2002), which aired on the PBS series Independent Lens; Smitten (2005), which aired as a PBS primetime special; New Muslim Cool (2009), from the PBS series P.O.V.; Between Two Worlds (2011); and Rebels With a Cause (2013). Yamamoto has also edited documentaries for National Geographic Channel, HBO, and the Discovery Channel, and has been an editor for KQED's weekly science series, Quest, and weekly art series, Spark*. He has twice been invited to participate in the Sundance Institute's Creative Labs.
Laura Karpman (Composer)
Four-time Emmy award–winner Laura Karpman has been named one of the most important women in Hollywood by Variety. Karpman's credits include the documentaries The Galapagos Affair: Satan Comes to Eden (2013) and Something Ventured (2011); the miniseries Taken (2002), executive produced by Steven Spielberg; the Showtime series Odyssey 5 (2002–03); the ABC miniseries Masters of Science Fiction (2007); the PBS series Craft in America (2007–12); and the dramatic features Man in the Chair (2007), starring Christopher Plummer; The Annihilation of Fish (1999), starring Lynn Redgrave and James Earl Jones; and The Tournament (2009), starring Ving Rhames and Robert Carlyle. Equally at home in the concert hall, Karpman has received commissions from the Cabrillo Festival Orchestra, the Juliard School, and the Czech National Symphony Orchestra, among others. Her multimedia opera Ask Your Mama (2009), commissioned by Carnegie Hall and written for Jessye Norman, the Roots, Nnenna Freelon, and d'Adre Aziza, from a text by Langston Hughes, premiered to critical acclaim.
Cinematographer & Sound Recordist
Mark Lipman
Co-Producer
Eva Moss
Associate Producer
Joanna Sokolowski
Post-Production Sound Services Provided by
Skywalker Sound,
a Lucasfilm Ltd. Company
Marin County, California
Supervising Sound Editor
Bob Edwards
Sound Effects Editor
Casey Langfelder 
Re-Recording Mixer
Bob Edwards
Score Recording & Mix
Nora Kroll-Rosenbaum
Color Finishing
Gary Coates
HD Online & Conform
Jesse Spencer
Format Conversion & Mastering
Heather Lyon Weaver
ZAP – Zoetrope Aubry Productions
Title Design
Core Studio
Communications & Outreach
Daniel Nevers
Judy Lichtman, Pinktop Design
Joe Hoffman, Jump House Design

Fiscal Sponsorship
San Francisco Zen Center
.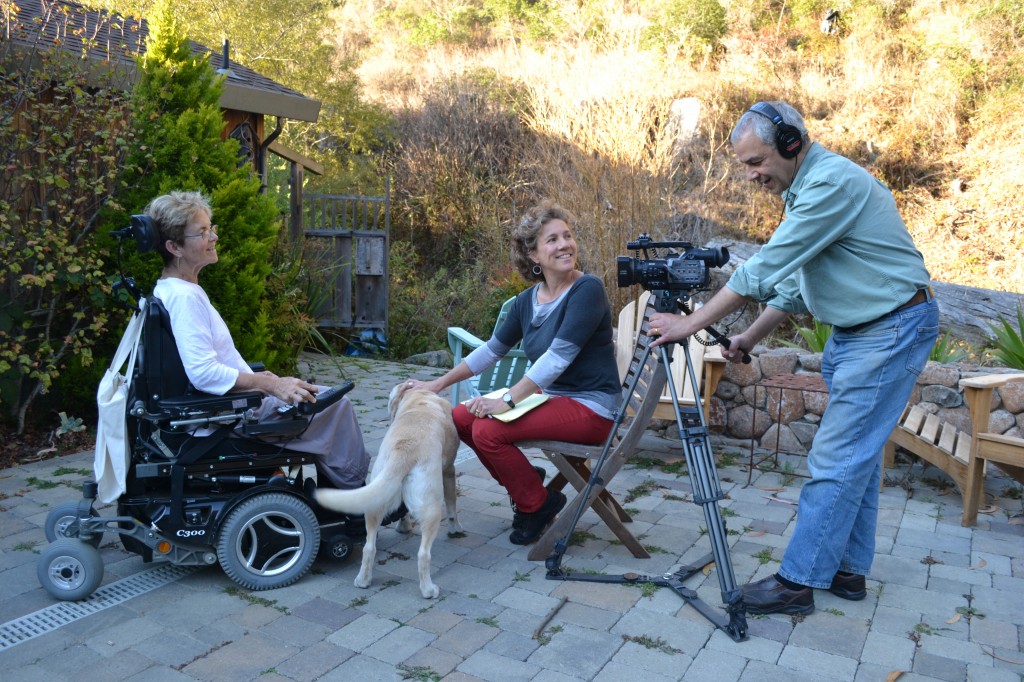 .
Advisory Committee
Jean Shinoda Bolen, MD, psychiatrist, Jungian analyst, and author
Milton Estes, MD, medical director, Forensic AIDS Project, San Francisco Department of Public Health
Molly Cooke, MD, director of education, UCSF Global Health Sciences; professor, UCSF School of Medicine
Susan Freundlich, development consultant
Diane Jones, registered nurse, UCSF/San Francisco General Hospital, HIV/AIDS Division
Jack Kornfield, Buddhist teacher and author
BJ Miller, MD, executive director, Zen Hospice Project
Elizabeth Share, founder, Wise Giving

Esta Soler, president, Futures Without Violence
Susy Stewart, Integrated Yoga Studies teacher
William B. Stewart, MD, medical director, Institute for Health & Healing, California Pacific Medical Center/Sutter Health
Paul Volberding, MD, director, UCSF AIDS Research Institute; director of research, UCSF Global Health Sciences; professor, UCSF School of Medicine
Kaethe Weingarten, PhD, founder and director, the Witnessing Project; associate clinical professor of psychology, Harvard Medical School, 1981–2013
.
Special Thanks
California Pacific Medical Center
Fleishhacker Foundation
The Isabel Allende Foundation
Marin Community Foundation
The Kenneth and Harle Montgomery Foundation
The San Francisco Foundation
San Francisco Zen Center
Bonnie Acker & John Emmeus Davis
Isabel Allende & William Gordon
Nicolas Frias Allende & Lori Barra
Linda Aroyan
Martin Aston
Jane Baker
Peter Barnes & Cornelia Durrant
Theresa Berta
Jean Shinoda Bolen, MD
Edith Caldwell
Rusa Chiu
Cindy Cleary & Joan Pinkvoss
Jeff Clements & Nancy Heselton
Carolyn Cohen & Ruby Namdar
Stephen B. Cohen
Thomas Crowder & Linda Rinearson
Ben Cushman & George Tuttle
Adair Dammann & Danferd Henke
Charlotte B. Dammann
Nancy Dammann
Lisa de Lima
Gina di Grazia
Kathleen Early
Jack B. Eiman & Roderick Kiracofe
Jean Entine
Sarah Entine & Walt Opie
EO/Small World Trading Co.
Abby Erdmann
Luise M. Erdmann
Milton Estes, MD
Vivienne Flesher & Ward Schumaker
Suz Floethe & Meg Sanders
Louise Forbush
Susan Freundlich & Elizabeth Seja Min
Gary J. Friedman & Trish McCall
China Galland & Corey Fischer
Jamie Gamble
Tracy Gary
Sheilah Glover & Elaine Belle
Richard & Ann Grace
Deborah Greiff & Bob Davis
Dick Grosboll
Barbara Hammerman, Raymond Lavine & Amanda Gresham
Sylvia Hankin
Anne Hughes
Yeva Johnson, Michael Potter, Myer & Natan Johnson-Potter
Diane Jones
Lorraine Killpack & Susan Stordahl
Sheila Krystal
M. Brinton Lykes & Catherine M. Mooney
Alex S. MacLean
Mike Magoo
Dr. Jean-François Manzoni
Ann & Andy Mathieson
Mary Morgan & Heather Furmidge
Tess Myers & Mark Jrolf
Patricia Myung & Stephen Shih
Meg Newman & Sherry Boschert
Joyce Newstat & Susan Lowenberg
Barbara Noda & Mimi Liem
Zesho Susan O'Connell
Erika Olsen
Jane D. Paull
Maria Ramos-Chertok & Keith Chertok
Amy Rao
Marci Riseman & Evan Sagerman
Carole J. Robinson & Zane O. Gresham
Sig Roos & Ruthie Rohde
Deborah Santana
Susan J. Rosen
Ruth Schoenbach & Lynn Eden
Robert Schwartz & José Luis Moscovich
Melton Smith & Robert Schaff
Elizabeth Share
Timothy Smith
Esta Soler
Peter Stern & Holly Badgley
Victoria & Annie Steinberg-Behrman
Susy Stewart & William Stewart, MD
Charles H. Stinson
The Szer Schlosberg Family
Carolyn Tague
Pauline Tesler & Peter Sandmann
Fay Twersky & Jill Blair
Jeane Ungerleider
Margaret Van Camp
Cinda & Dick Waterman
Kaethe Weingarten
Pamela Weiss
Kenji Yamamoto & Nancy Kelly